Welcome to the Tokyo Wakeboard Academy !
Hi, this is Yuichi Furukawa.
I ride wakeboard over 20 years.
We ride and enjoy wakeboard every day!
And, we teach people of all ages and skill levels and from beginners to pros.
Our wakeboard academy is located at Tokyo area.
Why don't you join us ?!
What to bring ?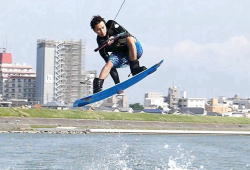 Just bring yourself!
You can use all wakeboarding materials free.
Wakeboard / Life jacket / Wet suit , All free!!
First time riding?
You don't need to worry.
You should bring
towel and sunglasses and swimsuits.
How much ? / What time ?
1 ride for 4500 yen.
2 ride for 8500 yen.
You can choose 8:30 am start or 12:30 pm start.
We ride every day.
Please tell us your convenient time.
Tokyo wakeboard is a safe and fun marine activity!
Location
Address:
2-19-6 Owada Ichikawa-shi Chiba-ken
Nearest Station:
JR Sobu Line - Motoyawata Station
- 20 minutes by Walk
- 5 minutes by Taxi
Please tell "To MG Marine".
Contact
MAIL:rare-towing-service@docomo.ne.jp
TO:Yuichi Furukawa
I'm still working on my English so please bear with me...

If you have any questions, please contact me.
Let's enjoy wakeboarding and wakesurfing in Japan !! This marine sports will bring refreshing and happiness!!